If your child is ill, the Child Health Service is here to make the journey through the health system as easy as possible both on the child and their parent/ guardian and provide the most comfortable, caring environment possible. We have services based on two campuses: Christchurch Hospital Campus and Burwood Hospital Campus. 
Our philosophy of care is centred around the rights of the child. Our service aspires to promote and protect the rights of children and young people. If you want more details about the rights of children and young people in healthcare please read the Charter on the rights of children New-Zealand
You can can also find out more about our Child Health Advisory Council.
Health Services at Christchurch Hospital
Children's Outpatients Department

Children's Outreach Nursing Service

Ward 21

Ward 22

Paediatric High Dependency Unit (PHDU)
Children's Haematology Oncology Centre (CHOC)

CHOC diagnoses and treats children, with a tumour or blood malignancy, from all over the South Island. Find out more about the CHOC Service

The Activity Room – Hospital Play Specialists

The Neonatal Service

The Neonatal Service provides 24-hour care for newborn babies with a variety of special needs. Find out more about the Neonatal Service

Child Development Service

Child and Family Safety Service

Public Health Nurses

The Public Health Nursing Service offers support to children, young people and their families across all schools in Canterbury with nurses based at some rural facilities. 

Universal Newborn Hearing Screening programme​

If your baby has a hearing loss, finding it early will help their language, learning and social development. The Newborn Hearing Screening Information for Parents aims to identify newborns with hearing loss early so they can access appropriate assistance as soon as possible.

National Screening Unit Information about New Born Hearing Screening
​​​Other Areas – Christchurch
Child & Youth Dental services

Child and Youth Dental Services provide free dental care by dentists who are contracted with the CDHB for all children until their 18th birthday.  Find out more about the Dental Service

Day Surgery Unit

Ear, Nose & Throat (ENT)

Eye Outpatients (Opthamology)

​Eye Outpatients (Ophthalmology) 

Find out more about the Ophthalmology Service

Plastic Surgery Outpatients
Intensive Care Unit
Find out more about the Intensive Care Unit
Child Health Areas – Ashburton
| | |
| --- | --- |
| Children's Development Service | |
​Genetic Service – National Service
​​​​​​​​Where is the Children's Outpatients Department?
The Children's Outpatients Department is located on the Lower Ground Floor of the Riverside Building at Christchurch Hospital. A full hospital campus map is available on the Christchurch Hospital​ web page.​
Directions to the Children's Outpatients Department
​Map of Lower Ground Floor, Christchurch Hospital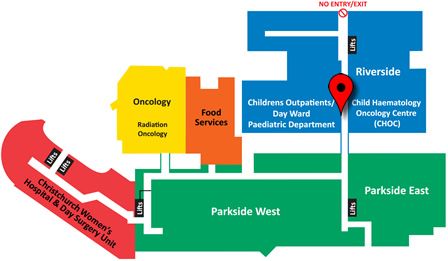 Enter the hospital through the Main Entrance (Riccarton Ave) 
Follow the directions for the Children's Wards 21 & 22
Take the lift to the Lower Ground Floor
Exit lift, turn left and the outpatients' dept is down the corridor on the right.
​Note: The entrance to the Riverside Building is currently closed due to construction.
​Parking​
Car parking is limited so please leave an extra 20 minutes to find a park.
Hospital car parking
There is currently NO CAR PARKING at Christchurch Hospital, except for a limited number of disability car parks. Please refer to www.cdhb.health.nz/parking for more information.
Buses
There are a number of buses that travel to and from Christchurch Hospital. See our Christchurch Hospital page for a list of bus routes to Christchurch Hospital or visit www.metroinfo.org.nz or call 366 8855 for information on bus timetables and route maps. 
Accommodation
Families travelling long distances to Christchurch, may be eligible for  accommodation assistance. If living out 100km or more from the city, Ronald McDonald House is available.  Arrangements should be made by your referring health professional or a social worker.
Travel assistance scheme
If you can answer yes to one or more of the following questions and have been referred by a health specialist, you may be eligible to claim.
Do you travel more than 80 km one way, per visit?
Do you visit a specialist 2 or more times in two months?
Do you visit a specialist 6 or more times in 6 months, and travel more than 25 km one way, per visit?
Are you a Community Services Card holder and travel more than 25 km one way, per visit?
For more information about travel assistance call 03 378 6398.
​​​​​Support services
​​Interpreters
Can be organised at no charge to you, but must be arranged in advance. Ask the hospital staff to arrange this through Customer Services, Christchurch Hospital, phone 03 364 0843.
​Māori Health Workers and Chaplains
Māori Health Workers and Chaplains​ can be available to support you, but should be arranged before your appointment.
​Your appointment
Children's Outpatients offer specialist appointments Monday to Friday, from 8:30am to 4:30pm. Each consultant team has set days to conduct their appointments.
Your child may be seen by a registrar, however your named consultant will still be responsible for your child's care.
​​Changed or cancelled appointments
If you wish to change or cancel your appointment, please do so as soon as possible. If you wish to change your appointment you will be offered an alternative date and time. This may extend the time your child waits to see the specialist team.
If you don't keep your appointment, we may:
Advise your GP
Contact another health worker to offer you support
Discharge you from our service
​​Missed appointments
Missed appointments make our waiting lists longer and prevent other children from being seen.
​​Making the most of your appointment
Arrive 10 minutes early in case you need to see the nurse first.
You can bring a support person.
Make sure you have enough prescriptions to last you until your next visit.
Organise child care for your other children.
Bring your well child book if your child is under 5 years.
Turn off your mobile phone.
​Consumer feedback
We value your thoughts and suggestions. You can:
Put your suggestion in the blue box in the department.
Phone Advocacy Services on 377 7501.
Write to Safety & Quality Team Leader, Women's & Children's Health, Corporate Building, 4th Floor, 32 Oxford Terrace, or phone on 364 4556.
Write to Charge Nurse Manager, Children's Outpatients Department, Lower Ground Floor, Riverside, Christchurch Hospital, or phone on 378 6144.
The Canterbury Neonatal Service provides a holistic family/whānau​ oriented model of care. We view the baby/pēpi as being the focus for our planning of care and for this reason, we have incorporated a "Developmentally Supportive Care" philosophy for all our babies/pēpi​.
The Neonatal Service provides 24-hour care for newborn babies with a variety of special needs. This includes prematurity, surgery, congenital abnormalities and babies who may have been compromised at birth. Care is provided by a skilled and experienced multi-disciplinary team utilising current evidence based practice.
Neonatal Visiting Policy
This visiting policy has been developed to ensure an optimal safe and secure environment for your baby, by minimising infection risk, protecting family's individual privacy, and providing an environment that promotes baby's well-being and development.
We recommend no more than three people per family at any one time. This includes parents. Baby's health and safety can be affected by over-stimulation, particularly if they are early or unwell. By limiting the number of people at the bedside, this reduces noise, activity, infection risk and helps in baby's rest and wellbeing. In the event that the nursery area becomes too noisy or overcrowded, impacting on the babies' wellbeing, a nurse may request that you take your visitors out to the parent lounge. Please do not be offended.
Hands must be washed immediately upon entering the unit. This is to prevent the spread of infections that are carried on the skin; as well as cold and flu viruses, which are carried in the air and on objects such as furniture, hands, baggage, clothing, etc. Sterilising foam is also available at your baby's cot.
Parents
Parents are welcome 24 hours per day. For privacy reasons you will be asked to wear headphones provided during the medical ward round and nursing handovers. You will be asked to please respect the privacy of other families: do not look or ask about other babies.
Visitors
All visitors are to be accompanied by a parent. Visitors are welcome between 11.00am to 1.00pm, and again between 3.00pm to 8.00pm.
Brothers and sisters of all ages are welcome under adult supervision and are included in the 3 per family policy. Other children under 12 years of age are not permitted to visit due to the increased risk of infections in this age group. No visitors will be permitted between 1.00pm to 3.00pm. This enables parents to spend uninterrupted quiet time with their baby.
Any visitor with a cough, cold, cold sores, rashes, other infection, or vomiting and/or diarrhoea should not visit. This is for the protection of your baby. If you as parents are unwell please discuss this with the nursing staff. We may ask you to see your GP to diagnose or confirm illness before you can return.
Non-immunised brothers and sisters of babies should not visit if they have any symptoms of any sort. Any child who has been in contact with other children with Pertussis (Whooping Cough), Mumps or Measles, Chicken Pox or Shingles should not visit and this information needs to be notified to the staff.
Referral to these services is arrang​ed by hospital staff.
Allied Health
Child, Adolescent and Family Services
This service provides specialist community and inpatient mental health services, including assessment, treatment and education for individuals and their families.  It also provides consultation and liaison for general practitioners, schools and key allied health and social service agencies.  It also provides regional consultation services to the West Coast and South Canterbury.;
Patie​nt Advocacy Service
This service is independent of Canterbury District Health Board. It is a free service and provides:
Information on Health and Disability Consumer Rights.

Assistance to the person to resolve the difficulty.

To raise with the health organisations and promote organisational change on issues which hinder appropriate care.
The service can be contacted by phoning 03 377 7501 (leave a message on the answer phone if the office is unattended).
Southern Regional Health School
The Southern Regional Health School is a state school for students from Years 1 to 13 who are too ill to attend full-time education at their usual school. They teach students anywhere in the South Island.  ​
Chaplaincy
Māori Health Worker
​Paediatric Nutrition Service
​Occupational Therapy Service
​Physiotherapy Service
Psychological/Counselling Service
Social Work​
Speech Language Therapists ​
Interpreter Service
An Interpreter Service is available for people who are deaf or do not speak English as their first language. Discuss with the nurse in charge. Canterbury DHB's interpreter service is available 24 hours a day and should be used whenever a lack of ability in the English language could restrict understand of a patient's needs, rights and obligations. The interpreter service is provided at no charge to the patient and there are a large number of languages available. ​
Notify the interpreting service of your admission to hospital
If you wish to notify the interpreting service of your impending admission to hospital please email the service at interpreterbookings@cdhb.health.nz or phone 03 364 0669. 
​
La Leche League NZ
La Leche League have found the kind of information and support they need to breastfeed their babies. The Ministry of Health also has valuable advice for new mothers on its website.
Clown Doctors
The Clown Doctors mission is to bring joy and laughter to children in hospitals and lift the spirits of people in need.​​
Dunsandel School Student Council organised a mufti day to raise money to purchase some cool toys for the Activity Room toy library.
Staying in hospital can be a stressful time for children and their families. We do everything possible to provide a comfortable environment for you and your child. If your child is scheduled to stay in the hospital you will receive an admission letter from the hospital outlining where you are to go and what time. Please take special note whether your child is allowed to eat or drink prior to arrival. This is what you'll need to bring with you and what amenities are available for your convenience.
Surgical Information
Your Surgical Journey (PDF, 1MB) What you need to know and do.
Overnight stay
A parent/caregiver is encouraged to stay overnight, you may be provided ​​with a bed or a pull-out chair, and you may share a room or have your own.
Arranged admissions
If arranged admission, go directly to the department/ward which is specified on your admission letter.
Accommodation
Accommodation for out of town families is available, this needs to be arra​​nged prior to admitting at Christchurch Hospital, please ask your Social Worker at your local hospital to arrange this.
What to bring
Bring pyjamas​​, comfortable clothing, a favourite toy, game or book (toys, books, games, TV and DVDs are provided by the hospital).
Food and drink for your ​child
All food for your child is provided. Please notify staff if your child has special dietary needs. If your baby is on a breast milk substitute please bring this with you (the wards only s​​tock one type). If your baby needs to have a breast milk substitute during your time on the ward, your written consent will be required before it can be given.
Food and drink for parent/car​​egiver
Breakfast and tea/coffee/water are provided free for parents. A​​dditional food and drinks can be purchased from the Christchur​​ch Hospital facilities or vending machines. Meals are provided on the ward for a mother breastfeeding a patient less than 6 months of age. Hospital meals can be ordered and provided for $5 if you are unable to leave your child. Payment is made to the Ward Clerk. Change for vending machines etc can be provided at the BNZ located in the Main Foyer, Ground Floor, Christchurch Hospital.
Hygiene
Showers are available​. Remember to wash your hands often to avoid spreading germs to your child or other patients.
Laundr​​y facilities
Ward 21 has a​​​ washing machine and dryer for parents in the children's wards.
Val​uables
Bring valuables at your own risk.
​Internet access
​Internet access is free and accessbile from – DHB Public Wi-Fi.
ATMs
There is a Westp​ac ATM machine located in the main foyer, Christchurch Hospital and a BNZ ATM machine located on the ground floor, Christchurch Women's Hospital.
Change for parking/vending machines
Notes can be exchanged for coins at the Bank of New Zealand, M​ain Foyer, Christchurch Hospita​​​l.
Smoki​​​ng
Smoking is not permitted within any CDHB hospital or on hospital g​​rounds. Quitpacks can be arranged. Please speak to a staff member if you wish to find out further information.
Donations and Bequests
From time to time patients, outside organisations and individuals offer donations or bequests to the benefit of our patients within Child Health services.
Child Health is always grateful for any financial assistance received by way of these donations and bequests as it enables us to purchase additional items of equipment, especially for the benefit of patients.
To make a donation or for further information please telephone the Christchurch Hospital and ask to speak to one of the following staff members:
| | |
| --- | --- |
| Christchurch Hospital | 03 364 0640 |
| General Manager, Christchurch Hospital | Ext 80215 |
| Personal Assistant to General Manager | Ext 80212 |
| Service Manager – Child Health | Ext 81230 |
| Personal Assistant to Service Manager | Ext 80742 |
| Charge Nurse Manager – Neonatal Unit |  Ext 85945 |
Charities
Child Health wishes to thank the following groups/companies for their continuous support:
Buddle Findlay Child Health Foundation
Friends of Children in Hospital
Keeping Kids Safe in Hospital
Just like home, there are potential hazards in the hospital environment that we all need to be aware of. It is important that while a child is in hospital that those caring for them, including parents/ caregivers are aware of these hazards.
So check this out for yourself by watching our newest video 'Keeping your child safe in hospital'.
If you are using an older browser and cannot see the video above, it can be viewed on vimeo.com instead.
When you have to go to hospital
Coming into hospital can be little bit scary. To help make you less anxious Charlie, Sheena and Gemma from What Now have made some videos to show you what may happen during your stay.

If you are using an older browser and cannot see the video above, it can be viewed on vimeo.com instead.
If you need an X-ray or scan

If you are using an older browser and cannot see the video above, it can be viewed on vimeo.com instead.
If you need a blood test
If you are using an older browser and cannot see the video above, it can be viewed on vimeo.com instead.
If you need a PICC line

If you are using an older browser and cannot see the video above, it can be viewed on vimeo.com instead.
If you need an IV line
If you are using an older browser and cannot see the video above, it can be viewed on vimeo.com instead.
If you need a plastercast
If you are using an older browser and cannot see the video above, it can be viewed on vimeo.com instead.
If you need an operation
​General Paediatrics
 Paediatric Surgery
 Dental
 Orthopaedics
​Ear, Nose and Throat
Urology
Neurosurgery
Plastic Surgery
Infection Control
Other information
A parent/caregiver is encouraged to stay with their child overnight.
Wards at Christchurch Hospital
Parents/caregivers: 24 hours/7 days
All other visitors: 8am – 8pm
Neonatal Unit (NICU) at Christchurch Women's Hospital
Parents/caregivers: 24 hours/7 days
All other visitors: 10am – 1pm and 3pm – 8pm
The Neonatal Unit has "Quiet Time" between 1pm – 3pm
Intensive Care Unit (ICU) at Christchurch Hospital
Parents/caregivers: 24 hours/7 days
All other visitors: 8am – 8pm
General enquiries
If you have a health concern please contact either your GP or after hours surgery in the first instance. All other enquiries please contact the main hospital switchboard at Christchurch Hospital on (03) 364 0640, or directly on the Canterbury DHB website.
Physical Address
Child Health
Christchurch Hospital
2 Riccarton Road
Christchurch
New Zealand
Postal Address
Child Health
Christchurch Hospital
Private Bag 4710
Christchurch
8140
New Zealand
New Child Health facilities
The Christchurch Hospital Campus is in the process of many redevelopments, one of which will include a new facility for children. To keep up to date with the progress of the redevelopment, visit the It's All Happening website.
Page last updated: 25 March 2019