CEO Update – Monday 2 May 2016
Monday 2 May 2016Canterbury DHB News1 minute to read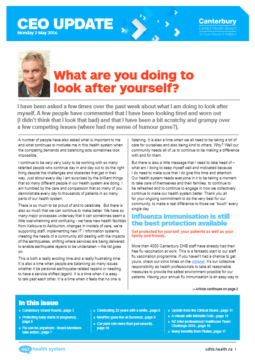 In this week's CEO Update David Meates ask what are you doing to look after yourself? We all need to be taking care of ourselves and also being kind to others. Also read about how this week is Immunisation Week and this year's theme focuses on the beginning of life's journey – 'Protecting baby begins at pregnancy'.
Frances Mansell, Business Analyst for the South Island Patient Information Care System and expectant mum to her first child, is doing all she can to protect her baby due in June. She has been vaccinated against influenza and whooping cough.
Read the CEO Update on our website.
Page last updated: 9 November 2018