CEO Update – Monday 19 December 2016
Monday 19 December 2016CEO Update1 minute to read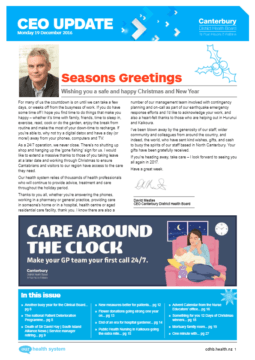 This week's CEO update is a bumper edition, brimming with festive photos. There's advice to help keep you and your family healthy over the holiday season with safe food tips and a word about drinking from ED Clinical Director, Dr Scott Pearson.
Read about the national Patient Deterioration Programme and what we're doing locally, and find out more about our health system's new high level measures which align with the Outcomes Framework.
We bid farewell to a number of staff who are retiring and if you've never seen a LINAC machine or surfboard made from gingerbread, today's your lucky day!
Page last updated: 18 October 2018