CEO Update – Monday 20 February 2017
Monday 20 February 2017CEO Update1 minute to read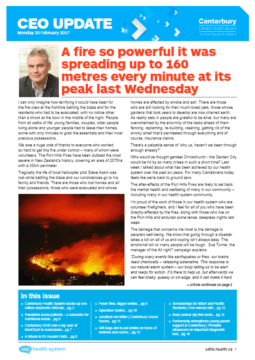 ​In this week's CEO Update, chief executive David Meates reflects on the Port Hills Fires and their impact on the wellbeing of Cantabrians.
Wednesday 22 February marks six years since the February 2011 quakes – find out what's planned to mark the anniversary in today's update.
We celebrate one million electronic referrals by Canterbury clinicians via the ERMS electronic request management system. Read about the great work of 'From one mother to another' a volunteer group who provide gift bags to mums and carers of children in Christchurch Hospital's neonatal intensive care unit and children's acute assessment unit. Be inspired by the nutritional needs calculator created by one of our dietitians to speed up the process of calculating nutritional needs of paediatric burns patients.
Page last updated: 18 October 2018