CEO Update – Monday 27 March 2017
Monday 27 March 2017CEO Update1 minute to read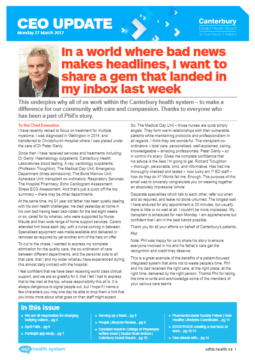 ​In today's CEO Update, chief executive David Meates shares a gem from his inbox – a letter from a grateful patient; check out the EDGE/RAGE team's swimming coach, Sophie Pascoe. Get creative and tell us how you're planning to promote 'Standing up to Falls' in April.
There's an update on the People Lifecycle Review and read how Ketogenic Diet Therapy can make life better for children with epilepsy.
Flu immunisation clinics start next week – the sooner you have your immunisation, the sooner you'll be protected.
Page last updated: 17 October 2018