Child Haematology and Oncology (CHOC)
Welcome to the Children's Haematology Oncology Centre (CHOC) at Christchurch Hospital.
CHOC is one of two specialist treatment centres for childhood cancer, the other being Starship Hospital. We care for infants, children and adolescents with cancer, and their families/whanau. CHOC comprises 10 in-patient beds, and a Day Stay area.
Referrals to CHOC
Our patients are referred from throughout the South Island and the lower part of the North Island. We also treat children with unusual non-cancer blood and bone marrow disorders. We are members of the Children's Oncology Group, a large cooperative child cancer organisation based in the United States, and with over 200 member institutions in North America, Australasia and Europe.
CHOC is currently located on the Lower Ground Floor of the Riverside Block in Christchurch Hospital.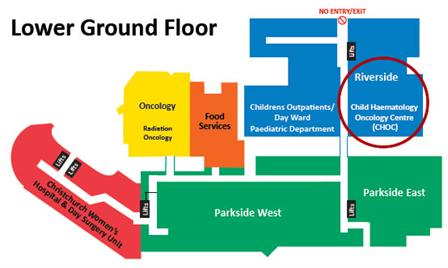 ​​The following patient information sheets have been prepared by the National Child Cancer Network to be used in conjunction with the shared care guidelines for the supportive care and management of children with cancer throughout New Zealand.​
See all Patient Informat​ion Sheets about Paediatric Oncology and Haematology​ on www.starship.org.nz
CHOC (Children's Haematology and Oncology Centre, South Island) provides care for both inpatients and day-stay patients from the South Island and lower North Island.
The CHOC Health Team is focused on helping children and their families through their journey.
Clinical Director and Paediatric Oncologist: Amanda Lyver​
Paediatric Oncologist: Rob Corbett​
Paediatric Haematologist: Siobhan Cross​
Paediatric Oncologist: Tristan Pettit
Paediatric Oncologist: Andrew Dodgshun
Research Activities
The team at the Children's Haematology Oncology Centre (CHOC) belong to several international study groups:
Children's Oncology Group (COG, USA),
International Society of Paediatric Oncology (SIOP, worldwide)
Australia and New Zealand Children's Haematology Oncology Group (ANZCHOG)
These groups develop treatment trials for most paediatric oncology conditions, often comparing the best known treatment with a subtle variation. During a trial, treatment and associated side-effects and long-term outcome are closely monitored. Clinical Research Associates/ Coordinators (CRAs) on CHOC manage the study-related activities.
If a child, adolescent or young adult is considered eligible for a clinical trial, the details of this will be discussed. The parents and patient (if appropriate for age) will be given an Information Sheet and Consent Form relating to the particular trial. Entry onto a clinical trial is voluntary.
All parents will be given an Information Sheet and Consent form about tissue banking for them to consider. The Tissue Bank ensures that tissue, in excess of that required for diagnosis, already taken or removed at surgery can be saved and kept to allow future research with the potential to further advance knowledge about the condition.
CHOC participates in the New Zealand Child Cancer Registry, this is funded by the Ministry of Health to ensure accurate data is kept about the type and incidence of Childhood Cancers in New Zealand.
As a unit involved in research, we are required to ensure that the Health and Disability Ethics Committee (HDEC) has approved all studies before they are opened at our centre. HDEC reviews and approves all aspects of the study, including the Patient Information Sheets and Consent forms.
The Research Team
The research team in CHOC comprises of……everyone! It is very much a team activity and everyone who comes through the doors plays a part, either directly or indirectly. There are some people who are more involved in the research side who are known as CRAs. They collect data and assist the clinical team with study requirements.
Research results suggest that children enrolled and treated using clinical trials have better outcomes, as a result of both new treatment combinations, as well as all the investigations and follow-up required. Our participation in these studies is important because it not only offers our patients the best treatment options, but also adds to the growing body of knowledge about childhood malignancies.
What is LEAP?
LEAP stands for Late Effects Assessment Programme. It is a CDHB service providing long term follow up for survivors of childhood cancer.
The New Zealand Cancer Control Strategy, Action Plan 2005-2010, identified the need to "ensure all survivors of childhood and adolescent cancer receive timely and ongoing support and rehabilitation, including the identification of, and intervention in, late effects" (Goal 4, objective 3, phase 1).
It is estimated that around half of child cancer survivors will have at least one significant problem related to their treatment, for example problems with growth and development, learning and thinking skills, hearing loss, heart damage or fertility.
In response to the Cancer Control Strategy, with initial funding from the Ministry of Health, LEAP commenced as a national programme in 2006, in the three cancer centres for New Zealand (Auckland, Wellington, and Christchurch).
What does LEAP provide?
Long term follow up clinics – multi-disciplinary clinics and nurse-led clinics across the South Island
Neuropsychological assessments (including psychological adjustment, learning and

thinking)

Psychosocial assessment and interventions (including therapy sessions, referrals to other agencies)
Adolescent transition to primary health care
Individual treatment summary, known as a "Health Passport" that provides risk based

guidelines. A copy is given to the patient and General Practitioner
A national database that incorporates the New Zealand Children's Cancer Register (NZCCR) with LEAP data, and the ability to output health passports for patients and their health care providers
How do patients enter LEAP?
Clients already under the care of the paediatric oncologists are transferred into LEAP at the appropriate time – once treatment and disease surveillance is considered sufficient (from 2-5 years, dependant on the cancer). LEAP also takes referrals from the adult oncology service and GP's for clients who have previously left paediatric care but now require late effects follow up. Clients can even refer themselves (or their child) by contacting the LEAP team directly.
Who is the LEAP team?
The core team comprises:
Paediatric Oncologists:
Dr Amanda Lyver
Dr Rob Corbett
Dr Siobhan Cross
Dr Tristan Pettit
Dr Andrew Dodgshun
Senior Clinical Psychologist:
Rebecca Lee
Clinical Nurse Specialist/LEAP Coordinator:
Jo Truscott
The Adolescent and Young Adult Cancer Service (AYA) is here to help improve outcomes for young people aged between 12 and 24 with cancer in New Zealand. This is done through helping to coordinate your cancer care with other health professionals, and assisting with addressing you and your family's social concerns during and after treatment.
For more information see Adolescent and Young Adult Cancer Service (AYA)
Page last updated: 12 February 2019