Sexual Health Newsletter – November 2018
Thursday 1 November 2018Newsletter1 minute to read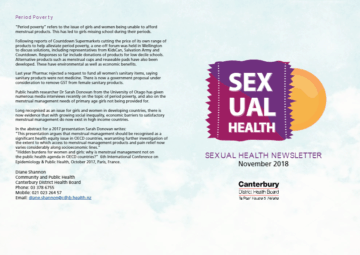 Welcome to Community and Public Health's Sexual Health Newsletter. It provides up to date information to health co-ordinators in schools and others working in the area of sexual and youth health in the Canterbury/ West Coast region. Any feedback is welcome.
Download PDF (122KB)
In this issue:
The latest ERO report "Promoting Wellbeing through Sexuality Education";
The Light Project;
Upcoming Sexual Health seminar;
IUSTI Asia Pacific Sexual Health Congress; and
Period poverty.
Page last updated: 6 November 2018