​​Ashburton Hospital provides a range of Inpatient, Day patient, Outpatient and Community based health services to the community. The Hospital has 74 beds and annually admits around 5,000 patients, cares for 2,600 day patients and 15,000 patients attend outpatient appointments.
 Rural health services employ around 550 full time and part time staff, which includes a clinical workforce in medicine, surgery and gynaecology, supported by nursing and allied health professionals with extensive experience in a wide range of clinical situations.
Phone
To contact a hospital departments or ward, call general enquiries and ask for a department. Alternatively some direct phone numbers are listed on Wards & Services page.
Visiting hours
11am-1pm daily – All visitors
10am-8pm daily – Maternity visitors
7am-10pm daily – Maternity patients family
Location
Street address
Ashburton Hospital
28 Elizabeth Street
Ashburton
Postal address
Ashburton Hospital
Private Bag 801
Ashburton 7740
Ashburton Hospital Cafe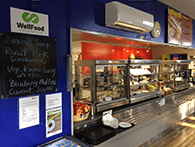 Hot meals, savoury items, sandwiches, scones, muffins, cakes, slices, selection of non-alcoholic drinks, barista coffee.
Monday to Friday: 7am – 7pm
Weekends: 7am – 7pm
Patients and Visitors
General information for people visiting a hospital in Canterbury.
Enquiries and feedback
We welcome your feedback about our services and your experiences at Ashburton Hospital.
Note: We cannot give medical advice by email. Please contact your doctor or the person in charge of your medical care.
Directions to hospital
Directions in hospital
You can ask for directions at the reception. Large signs indicate hospital services and wards.
Printable hospital map
Ashburton Hospital Location Map
Wards and Services at Ashburton Hospital
Page last updated: 14 January 2019